I, cheater, present to you BT trainer for singleplayer for people who do like playing alone and with little more fun that usual... And maybe a "bit cheeaty".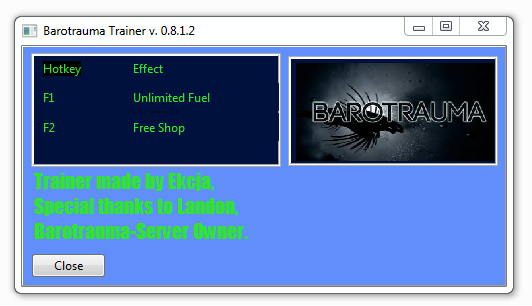 INSTRUCTIONS:
1. Open game.
2. Open trainer.
3. Play Singleplayer and when in shop, press F2.
4. When in-game, press F1.
Unlimited Fuel - Means that you have unlimited supply of fuel to things such as: welder, cutter or even chemicals to syringe.
Free Shop - Means that you can buy anything from the shop for free.
Notice: Anti-Viruses may see it as a virus, it's false-positive as this trainer changes games in-game data [Not permanently] and anti-viruses see it as program changing tool which alerts them. But there is nothing to worry about, I gave source code to developer, so trust not me but developer, it's clean.
Link:
https://www.dropbox.com/s/9p5d5ed5kcsak ... r.EXE?dl=0